I want to own a dairy-free ice cream shop!
Three students from our February 2019 session taste flavors they made during our "make your own flavor" session in our ice cream production facility.
Are you interested in opening your own vegan ice cream shop, or expanding your current offerings to include dairy-free options? We created Cool School, an intensive, immersive learning experience for plucky entrepreneurs wanting to lay a ground work for success. After 7 years in business, the owners of Sweet Ritual share the Dos and the Don'ts of developing recipes, opening a shop, purchasing equipment, and running a business from day to day.
We've revamped our curriculum to be more comprehensive, and include more of things you need to know to make delicious vegan ice cream and run a successful small business. We've expanded our teaching staff to give you more viewpoints on every aspect of the business. We've kept our class size small with a max of 9 students per session, so that you get lots of access to our experienced staff and you can form lasting relationships with other entrepreneurs from around the world.
If you are a business owner or serious budding entrepreneur, this course is for you. Prior to the session, we will conduct short email interviews to tailor class time to your specific needs.
Class is from 9am - 4pm Monday-Friday with a one hour lunch break. All lunches are vegan, included in payment and will be provided from a local Austin restaurant.
Upcoming sessions:
October 21st -25th, 2019
November 11th - 15th, 2019
December 9th-13th, 2019
February 17th-21st, 2020
Please note, we only teach this class to students looking to open their business outside the Austin area.
If you are interested in a future session, please fill out the form below to get on our mailing list. Sessions fill up quickly.
COOL SCHOOL SCHEDULE:
Sunday evening: Dinner with students to meet and greet.
Monday: Learn the science behind ice cream and how to capture the essential qualities of ice cream with plant-based substitutes. We'll familiarize ourselves with the kitchen and make coconut milk based recipes in the morning. In the afternoon, we'll start on the basics of small business, from why you're running a business in the first place, to deciding exactly what to sell and how, choosing a location, and financing your start-up costs.
Tuesday: Experiment with a variety of nut and seed bases including cashew, almond, peanut, and sunflower seed. Then you'll team up to plan your own flavor based on what you've learned. You'll also learn about calculating cost of goods in a recipe, pricing your products, and managing money on a day to day basis.
Wednesday: You'll start the day making your own dream flavor with your team, from prepping to pricing to pinting. After lunch, we'll take a look at big picture financing, including reading financial statements, knowing how and when to grow, and making plans for the future.
Thursday: We'll spend the morning in our scoop shop to see how we set things up and have a hand at scooping ice cream. Our store manager will talk you through how to make a shake, how to operate a soft serve machine, facility maintenance, customer service best practices, and day to day operations. After lunch, it's time to talk about hiring, training,and leading employees. We'll dive into marketing and spend some time exploring your best and easiest marketing tool- social media! You'll learn how to take the perfect picture, how to build a visual brand, and how to use platforms like instagram to turn "likes" into sales.
Friday: You'll get one last morning in the kitchen to learn about ice cream cakes, ice cream sandwiches, sorbets and other bases, and toppings and mix-ins. We'll also talk about sourcing ingredients and managing inventory. After lunch, we'll go on a series of ice cream field trips to explore some of Austin's best vegan ice cream options and get inspirations. We'll end the afternoon with happy hour at a local bar with a great vegan burger food truck, and you can ask the owners and staff all of your remaining questions.
A small class size (max 9 students) means you'll get lots of hands-on experience and personalized attention throughout the week. You'll get to learn all about our business while meeting with other passionate small business owners and entrepreneurs from all over the world. Cool School alumni also get access to our closed facebook group so they can connect and ask questions as they are starting up.
Vegan Ice Cream School Price: $2500 per person
The above price includes: 30 hours of class time, all ingredients used in class, delicious vegan meals from Austin's best vegan restaurants, field trips to other ice cream parlors in town, and plenty of Sweet Ritual vegan ice cream.
You'll have a chance to take home samples of what we make in class each day to enjoy or share with friends. You will receive a printed course manual (over 100 pages) with recipes of everything we make in class, information on substituting ingredients and resources for developing your own recipes. Your course packet will also include resources on running an ice cream shop, sourcing ingredients, hiring and training employees, finding a location, raising funds, and other business management topics covered over the week.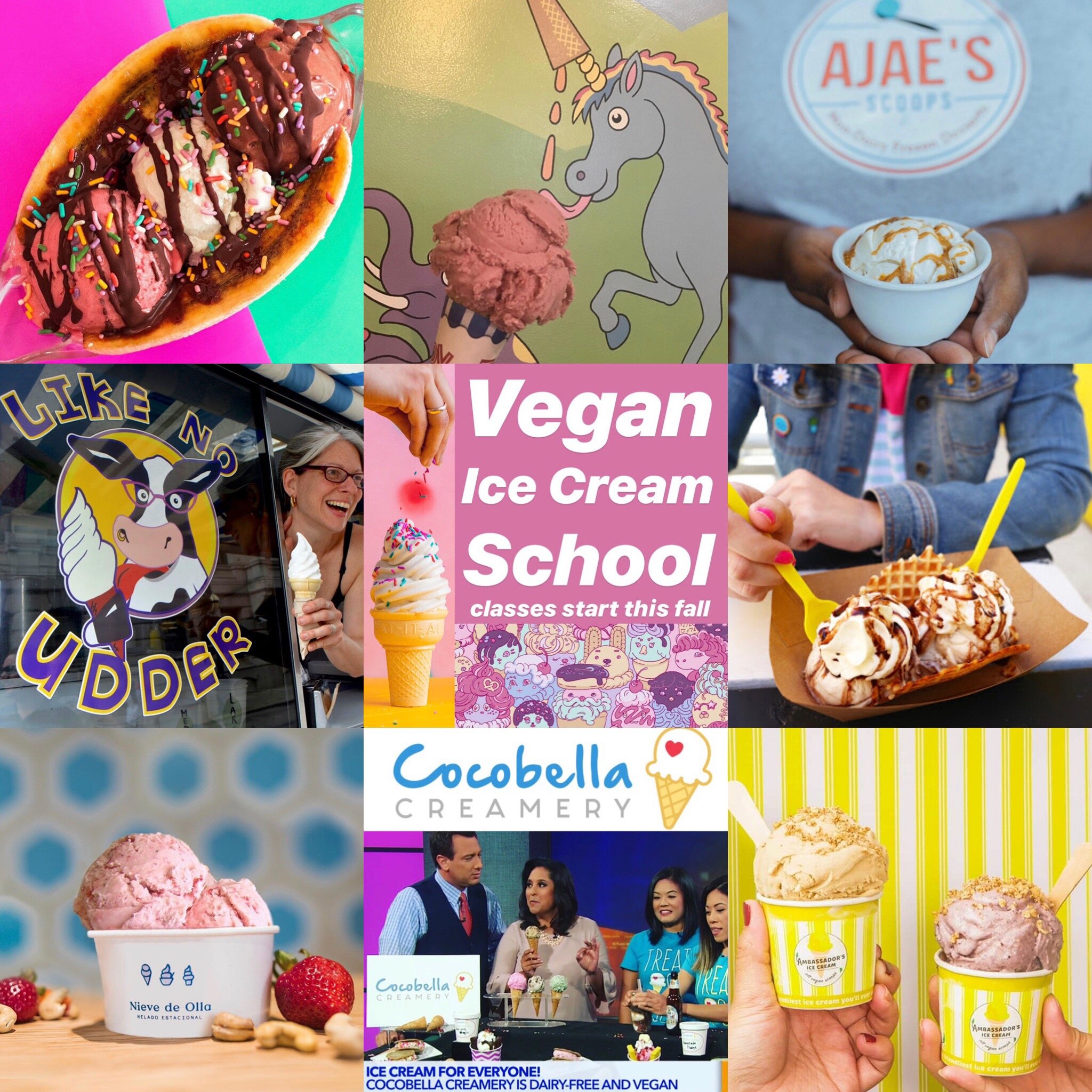 Past participants in Cool School have gone on to open their own vegan ice cream shops including:
Monkey Wrench in Salt Lake City, UT
Like No Udder in Providence, RI
Brightside Creamery in Denver, CO
CocoBella Creamery in Los Angeles, CA
Rosanna's Dairy Free in Atlanta, GA
Sunset Swirl in Santa Fe, NM
Nieve de Olla in Mexico City, Mexico
Ajae's Scoops in Ft. Worth, TX
Awesome Bites, Co. in Houston, TX
Cornflower Creamery (part of Buffalo Pizza and Ice Cream Co.) in Sacramento, CA
A Crafted Goodness, in Orlando, FL
Abassador Ice Cream, Mandaluyong, Philippines
Past participants have also attended Cool School in order to expand and improve dairy-free options in their existing shops:
Melt Ice Creams, DFW, TX
Mount Desert Island Ice Creams, Bar Harbor, ME
Greenery Creamery, Orlando, FL
Love Creamery, Duluth MN
Fairly Frosted, Toronto ON, Canada
We have had students from as close as Houston, TX and as far as The Philippines, Australia and Ireland.
What have past students said about Cool School?
"I'd been seeking a course in ice cream making (in a safe for me, dedicated dairy-free environment, as I'm milk allergic) & Cool School was one of only 2 for professionals that I'd come across. It was the best option!"
"Do it. You must! You want to learn everything there is to know about vegan ice cream making, then do it. The best, most impeccable ice cream, do it. And you want to learn from the top talented experts, the most generous, the kindest & most intelligent; Cool School is for you. You need business training from scratch to huge prospering success, then Cool School will teach & model that to you. You will be thoroughly impressed & will walk away with more than expected & plenty upon which to build/thrive. And learning within the context of Austin's collaborative business community will blow your mind. It's a great place. Cool School all the way!"
"From using the professional equipment, to trying out recipes, to talking about the business end of things, I think it was the whole package that appealed to us. Having you both on hand to discuss things with was priceless."
"I would definitely recommend the experience to others. The course is an even balance of hands-on, watching, discussion and practical skills. The course was fun and I walked away with a new set of skills from which to grow upon."
"I was overwhelmed with Amelia & Valerie's warmth & integrity & knew I'd be learning something great from these brilliant women."
"All of it surpassed what I'd expected. It was all encompassing & more, even covered wholesaling ice cream."
"I walked away with a sense that this is really what I wanted to do for a business and that it meant a lot to the customers of Sweet Ritual. I have had the same experience in opening my new shop."
"If you want to open an ice cream shop, go to Cool School. You will literally learn EVERYTHING you need to open one. The owners are the most generous business owners I've ever met. They will share all of their knowledge with you, so you can avoid all the pitfalls of opening your own shop."
"Thank you for your generosity. I truly enjoyed every min of the course. I left SO INSPIRED!!"
"Having the opportunity to meet the two of you and receive some consultation for our upcoming business was all we were looking for, but we got so much more! Our decision to come to Cool School was a no-brainer. Getting a chance to learn shop setup, production, base recipes and ask questions about your experience gave us a huge advantage going into this new venture of ours."
"If you're looking to open a vegan ice cream shop, Valerie and Amelia's immersive course will give you an in-depth look at the logistics of opening and running a specialty vegan business. Their willingness to share their experience, passion and expertise was invaluable and will help you see if you've got what it takes."
"It was a heck of a lot of fun."
About the instructors:
Valerie and Amelia opened Sweet Ritual in December 2011. They started with Amelia's vegan soft serve recipe, and as demand grew developed their own hard-pack recipe. In 2014, they attended Ice Cream University's 2 day non-dairy course with Malcolm Stogo, the "godfather of ice cream." Combining that knowledge, their own recipes, and ongoing experimentation and resources from the best ice cream makers around the world, they have developed some of the highest-quality and most original non-dairy ice creams in the world. Sweet Ritual has been open over six years and grew from just over $100,000 in sales in their first year to $780,000+ in 2018. In the Fall of 2017 they participated in the FASTForward entrepreneurial incubator through the The City of Austin's Small Business Program and UT's IC2 institute. They have become leaders in the local business community, founding and supporting groups of businesses focused on vegan food, responsible entrepreneurship, and local marketing. Valerie has a BA in American Studies from UT Austin and has worked as a manager for several successful small businesses in Austin. Amelia has a BA in Creative Writing from the University of Arkansas, an MFA in Photography from The University of Oregon, and an M Ed from Texas State University.